Sign-Up for Weekly
Sign-up for Fig Datebook and receive weekly content that includes new blogs and features, local events, and happenings in Columbia delivered directly to your inbox.
To subscribe to Fig Columbia in print, please click here.
Get the Print Magazine
Get your own fresh Fig Columbia delivered to your doorstep 4x a year. Be inspired by the latest trends, happenings and thoughts about a Columbia lifestyle.
Sign Up
Suggest an Event
The online Fig calendar is a curated list of community and advertiser events happening in Columbia.
Contact Us
August 25, 2023
The Left and Right Brains of Soda City
In this Arts & Culture issue, we're shaking things up with a "left brain perspective." Take a journey through eight iconic boroughs that perfectly encapsulate how care for the arts, thoughtful development, and architectural preservation play a role in Columbia's unique cultural landscape.
Turn these pages to discover local businesses that stand as champions for the creative pursuit across the Midlands and be inspired to support these purveyors of arts and culture in the Capital City.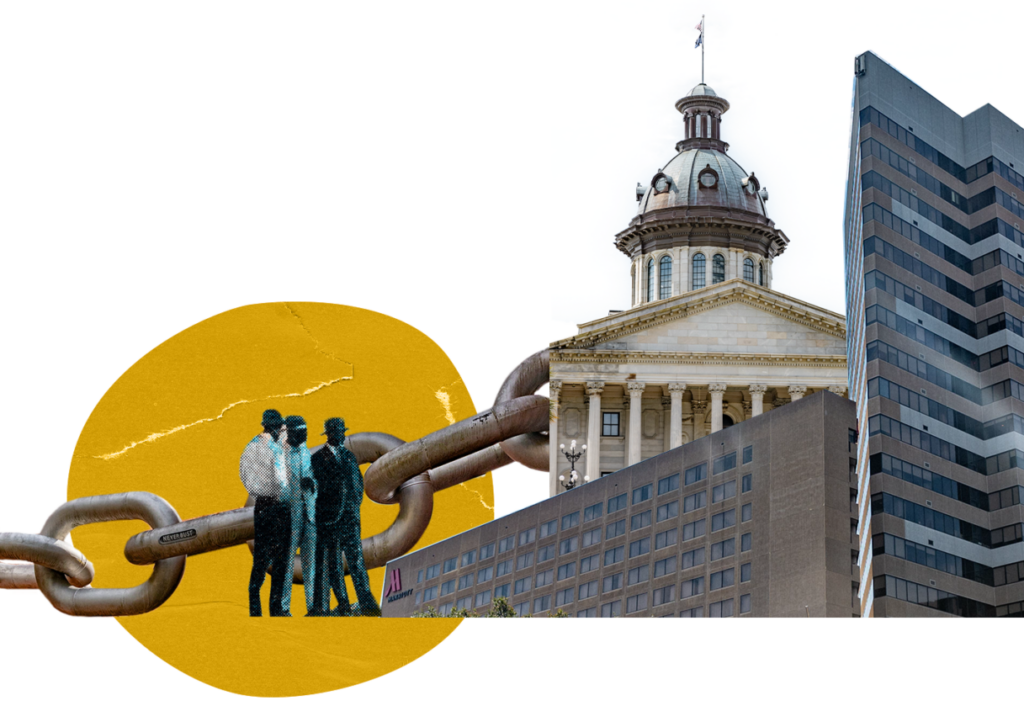 Bullstreet District What was once the former site of the South Carolina State Hospital is now shaping up to be one of Columbia's most exciting recreational hubs. A shining example of historic preservation and modern development, the 181-acre BullStreet District is now a place to work, live, and explore.
Cayce + Weco It's no secret that one of the Midlands' biggest assets is our expansive river system. While the River Alliance's dedicated efforts to create pedestrian trails moved the needle for this area years ago, new mixed-use spaces and smart restoration plans continue the buzz in one of Cayce/West Columbia's most thriving areas.
Main Street A longstanding fixture of Columbia, the Main Street District is home to distinct architecture and rich history. While you stroll down one of South Carolina's most idyllic streets, it's no secret that respect for the past, passion for the present, and excitement for the future all play a hand in what is arguably the most bustling cultural district in town.
The Vista When you think of Columbia's former history as a busy textile economy, many historic mill buildings still stand before you here in the shadows of the State House. The Vista's cobblestone streets and iconic structures of old and new mix with tourists and locals alike to create a thriving city-center.
North Main One of Columbia's best views is found while gazing upon the glowing street lights of the North Main corridor. What is affectionately coined the "NoMa" District, major revitalization projects are underway amidst quaint historic neighborhoods, local businesses, and more for the ultimate urban-living landscape.
Rosewood We would be remiss to omit one of Columbia's most quintessential neighborhoods: the Rosewood neighborhood. From an old church turned gorgeous mixed-use building to quirky urban gardens, and the iconic Williams-Brice Stadium, Rosewood strikes a balance of progressive development choices and down home comfort.
USC The University of South Carolina put Columbia on the map back in 1801 and continues to lead the way for innovative research and higher learning today. Walking the charming Horseshoe is a step back in time, while LEED-certified buildings now lead the way for sustainable architecture and energy usage in the modern age.
Five Points Lovingly referred to as Columbia's "original village neighborhood," Five Points is a bustling recreational district with over a century of homegrown history. Although charming landmarks still come to mind, a new tech hub is ushering in an arts and innovation era in the heart of the Midlands.